Short-Term Rehabilitation  & Comprehensive Care Plans
Our experienced clinical team creates custom plans of care for each of our residents in order to best improve strength, mobility, and independence. Our goal is to help our residents recover from surgery, serious injury, or illness, and regain the necessary skills to return home. Our large, state-of-the-art therapy room provides a comfortable and private setting, and therapy is provided seven days a week.
Post-Acute Care
We offer high-level post-acute care for residents previously hospitalized with chronic conditions who need additional support before returning home. Through intensive therapy, our team works to return each resident to healthy and independent living in order to get them back on their feet.
Our short-term rehabilitation and post-acute expertise extends to:
Physician Services
Occupational Therapy
Physical Therapy
Cardiac Therapy
Speech Therapy
Post-Surgical Orthopedic Care
Stroke Recovery
Hip Repair/ Joint Replacement Recovery
Amputee Recovery and Training
Off-Site Dialysis
Bariatric Rehabilitation
Long-Term Care
We invite you or your loved one to come join our community. Our experienced care team works with new residents to prepare a personalized long-term care plan that provides for any and all medical needs, in addition to reflecting each of our residents' unique personalities and potential. Residents and families can expect the highest quality of care in a supportive, comfortable, and engaging environment.
Our long-term care expertise extends to:
Pain Management
Specialized Diets
Physician Services
Restorative Nursing
Diabetes Management
Respiratory Management
Tracheostomy Care
Internal Nutrition Therapy
Comfort Care
Palliative Care
Hospice Care
Complex Medical Care
IV Antibiotic Therapy
Wound Care and Wound VAC
Planning Ahead
Our team works with each of our residents to ensure that – when the time comes – they have the tools and capabilities to continue their recovery at home. Discharge from Everett to home requires the successful transfer of information from clinicians to the patient and family, in order to reduce adverse events and prevent readmissions. With the guidance of the resident and resident's family, we will follow guidelines that ensure continued success at home:
Conduct a home evaluation prior to discharge
Review medications
Highlight warning signs and problems
Explain test results
Make follow up appointments
Coordinate with community providers and physicians
Provide patient and family education prior to discharge, including Medication Administration management and safety awareness
Activities
Our residents enrich our community by socializing and expressing themselves in activities catered to their interests. Spearheaded by our talented and enthusiastic Recreational Director, our activities are well known for their creativity. Our cooking program – for example – allows resident to select an old-time favorite that brings back fond memories, while Sing-Along music therapy brings our community together through song. To name some others: Movie & Manicures, Monday Madness, You Be the Judge, Paper Fun, Poem Readings, Word Scramble… and many more.
Entertainment
Entertainers, singers, and comedians are frequent visitors at Everett. Some of our more popular performers are Music with Fran, Music with Joey, Rosary 2 and the famous Father-Son Duet team.
Daily Traditions
Whether it be catching up on local news, reading and writing mail, joining a social group, meditating or catching up with family and friends on the phone – our residents have the free time and support to pursue any interests. Our brightly-lit day rooms with beautiful views of Everett, MA provide the perfect venue to enjoy a book or a cup of coffee.
Gourmet Meals
"This is delicious!" It's a common refrain in our dining rooms, as residents enjoy gourmet meals customized for individual appetites and dietary concerns. Our dining experience offers healthy, flavorful, and nutritious meals that provide the comfort and nourishment needed to rebuild strength and promote a healthy appetite.
Additionally, we offer:
Diabetic menus
Low-sodium options
Fat-free and low-fat choices
Sugar-free beverages and desserts
Special preparation for those with trouble swallowing
Volunteers
Volunteers from local community groups and religious organizations are always visiting and enhancing our community. Residents spend time talking to volunteers and engaging in joint activities such as pet therapy and board games. Many of our previously rehabilitated residents return to spend time with, and give back to their Everett community. If you have volunteered with our community, thank you! If you are interested in becoming a volunteer, please contact us.
Religious Services
Our home caters to members of all faiths, and regularly hosts religious services and groups for the spiritual wellbeing of our community.
Onsite Beautician & Barber
Our onsite barber and beautician help our residents look their best at all times!
Laundry & Housekeeping
Laundry is done daily to ensure our residents are comfortable and clean, and our housekeeping service operates 24/7.
Cable Television & Phone Service
Cable and telephone service are always included, free of charge.
Testimonials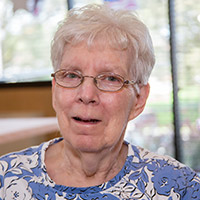 "Staff is great and makes me feel better.  I like the exercise group daily, manicures, and having my hair done.  I'm very soft spoken and the staff really understands me."
— Beverly
Resident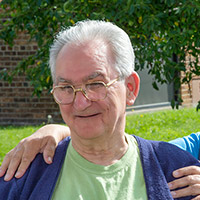 "I got a chance to walk again, which makes me really happy. The facility is nice and the staff is good to me.  I have the freedom to be independent and do what I want and also spend time with family and friends on outings or trips."
— Arnold
Resident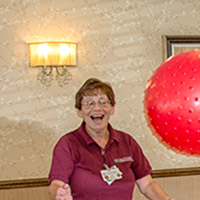 "I've worked here for twenty five years and I'm so happy to come in a work with an amazing group of people, both staff and residents.  It feels like a big family here, it's a pleasure to work here."
— Sue
Activities Aid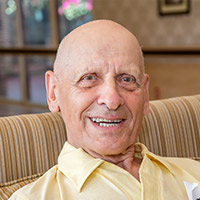 "I'm a volunteer at Everett where my wife has been a resident over five years.  This place is very nice and clean.  The personnel at Everett are professional and know the resident's needs.  It's also decorated nicely for each season and special holiday.  I would like to mention that most residents are happy and have an upbeat attitude. Many residents enjoy the group exercise that is provided daily."
— Arthur
Family Member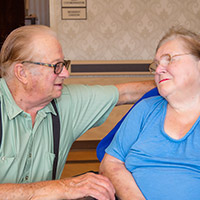 "I feel very comfortable with my wife living here.  Before coming to this facility, we looked at other places which my wife refused.  When we got to Everett we were pleasantly surprised and my wife was happy to stay here.  The equipment is terrific and being family with cleaning procedures, Everett is very well taken care of.  The help is personable; it takes a special person to work with individuals with dementia/Alzheimer's and the staff at Everett truly care about the people living here."
— Frank
Family Member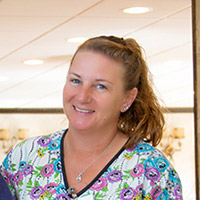 "I've been working at Everett for three years, as soon as I walked into the building I felt welcomed and comfortable. The DON is really great to work with and makes me feel important. I go home each day feeling grateful to impact others and make a difference in their lives"
— Wendy
Restorative Therapy CNA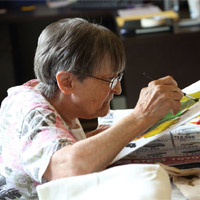 "The staff is good to me and very kind. It's a marvelous place to live."
— Shirley
Resident